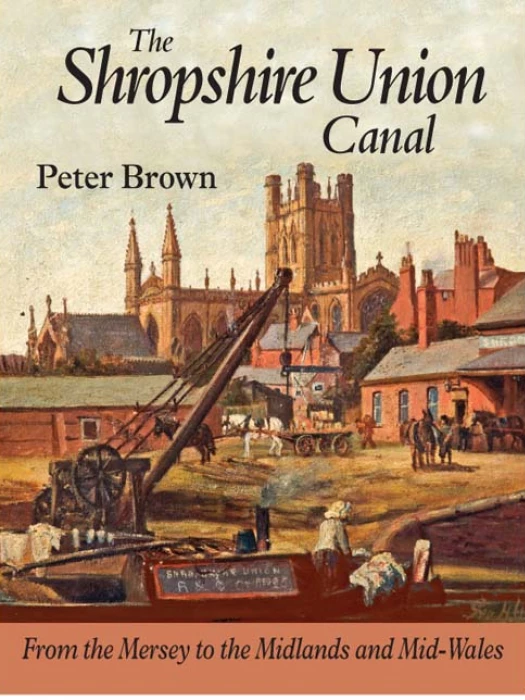 The Shropshire Union was created in the 1840s by the amalgamation of the Ellesmere & Chester, Birmingham & Liverpool Junction, Montgomeryshire and Shrewsbury Canals to form a network some 200 miles in length.
The main line went from the north-western edge of Wolverhampton, through Market Drayton, Nantwich and Chester to the Mersey at Ellesmere Port, together with a branch to Middlewich. The long 'Welsh Branch' ran from near Nantwich via Whitchurch, Ellesmere, Llanymynech and Welshpool to Newtown, together with a branch to Pontcysyllte and Llangollen. A further branch served Newport, Wellington and Shrewsbury. The intention when the companies merged was to convert many of their canals into railways and to build further railways. In the event, only one railway was built, from Stafford to Shrewsbury. Not long after the merger, the Shropshire Union was leased to the mighty London & North Western Railway.
This book relates the history of the constituent companies, all of which were originally formed in six decades from 1770, comparing their policies and progress. It follows the Shropshire Union under railway control, examines the reasons for the decline and closures, then brings the story up to date with nationalisation, revival and restorations. To keep the length of the book manageable, Ellesmere Port, Liverpool docks and the cross-Mersey trade are considered only to the extent that they relate to the canal network.
The emphasis is on the canals as businesses and as part of local history, the economic and social aspects being stressed. As far as possible, the reasons why decisions were made is explained. The final chapter discusses the changing role of the canals and considers the lessons to be learnt from the various restoration schemes.